...he didn't make history, he plundered it!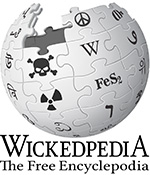 Captain Pyrite Wickedpedia
Captain Pyrite is an American rock band and fictional character formed in 1994 by sculptor C-DOG, multi-media artist Emperor John Morgan, and musician Jet-Boy. The Captain Pyrite character is a perennial fixture in the band's science fantasy and pirate-influenced album art, videos, merchandise, and live shows. The fictional universe is presented in music videos, animations, comic strips, and short films.
The band's 1996 debut album, The Legends of Captain Pyrite, explored a variety of musical styles, including art rock, nu-metal, post-punk, industrial, and world music through an "eccentrically postmodern" approach. The album heavily employed sound effects and cinematic storytelling elements.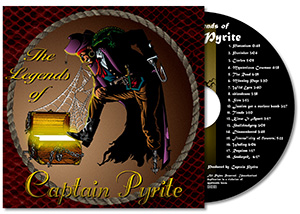 Their second studio album, The Revenge of Captain Pyrite (2003), featured collaborations with a wide range of featured guest artists. They continued their approach towards pushing musical boundaries with electronica, prog rock, and alt-metal influences along with movielike sound effects and science fantasy themes.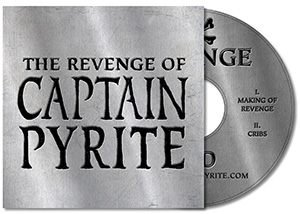 Captain Pyrite has presented itself live in various ways throughout the band's history, showcasing their artwork, sculptures, painting, and visual media as much as the live performers. Shows were staged as an ever-changing gallery opening accompanied with live music.
HISTORY
C-DOG met Jet-Boy while boating on the Illinois Chain O' Lakes. They immediately hit it off and discussed performing a live show. At the time, C-DOG was carving a life-size Rock Star sculpture in Italian marble. He wanted to put on a concert to experience being a rockstar firsthand. Jet sang and played lead guitar. C-DOG swapped between guitar, bass, and keyboards. C-DOG recruited his brother, Emperor John Morgan, to play drums.
All three members were multi-talented. Outside of sculpture and painting, C-DOG was an experienced sailor and professional boat captain. Jet was a singer/songwriter who also enjoyed drawing and performing at poetry slams. Emperor John Morgan was a published illustrator and filmmaker whose short films and animations appeared in numerous film festivals and on television.
The band's name was inspired by a box of children's cereal that featured a fun fact on iron pyrite (fool's gold), the fusion of rock and metal. They played their first show as C-DOG Pyrite on November 4th, 1994. C-DOG is short for Captain Dog. Captain Dog Pyrite was shortened to Captain Pyrite. From there, the fictional character of Captain Pyrite was born.